San Francisco East Bay Chapter
President
George Gavrell
1433 Emmons Canyon Dr.
Alamo, CA 94507-2856
(925) 837-6248




"Making New Friends"

Secretary
Ingrid Sheipline
143 Chadwick Way
Folsom, CA 95630-6591
(916) 983-6331

---
2014 NW Inter-Chapter Hummel Conference Photos
September 19-20, 2014 - Sacramento, California
Click any picture to enlarge it! You may need to scroll down to view it. A slide show button is in the lower right corner.
If you have difficulty, Click Here to use a different viewer.

---

History of our Chapter:
While Pam Turpen was living in Germany from 1979 to 1981, an interest was sparked in German culture. Years later when Pam saw an ad for the Grandpa figurine, she joined the M.I. Hummel Club so that she could get the certificate to buy it. She asked about joining a local chapter and was sent information about starting one. The first meeting of our chapter was held Dec. 9, 1995 at Coco's restaurant in Dublin, California. There were eight charter members, four of whom are still members.

Making New Friends, HUM #1073, is our club's "motif figurine". Our specially designed Chapter pin is shown at the bottom of this page. If you would like to order a pin, click on the pin for an order form. The cost is $6 per pin, including shipping.
---

Meetings/Membership/Trips/Activities:
Our meetings are normally held on the 2nd Saturday of each month in one of our member's home. A topic of interest to the group is prepared by that member and shared with the group. Our members live over a wide area of the San Francisco Bay Area. The meetings are open to anyone and visitors are always welcomed. If you would like to attend a meeting, need additional information or want to join our chapter, contact the President or Secretary/Treasurer whose names, telephone numbers and e-mail addresses are listed at the top of this page. Chapter dues are $15/year. FUN is our objective and the love of Hummel figurines help us achieve that goal!
Trips related to Hummels are taken to a variety of places of interest. A four day trip was taken in 1999 to the Hummel Museum in New Braunfels, Texas and the Texas Interchapter Conference. In September 2000, we attended the Ninth Northwest Local Chapter Conference, "Fanfare Northwest" held in Leavenworth, WA. 2001 found us at the M.I. Hummel Convention, September 6-9 in Nashville, Tennessee. In 2002, we participated in the 10th Northwest Regional Chapter Conference held in Eureka, California. As a group we also attended the 2003 M.I. Hummel Convention in September held in Anaheim, California. Some members attended the 11th Northwest Local Chapter Conference held in Lake Tahoe, NV sponsored by the High Sierra Chapter. A large number of our band of "Merry Wanderers" attended the 2005 National Convention in Boston, MA. In October, 2006 our chapter hosted an Inter-Chapter Conference in Oakand, CA. September 2007 found many of our members at the Hummel National Convention in St. Paul, Minnesota. Our merry band of travelers also took a trip in 2007 to Germany, which included a visit to the Goebel factory and the Berta Hummel Museum. In 2008 we attended the NorthWest InterChapter Conference held in Portland Oregon. In 2009 we enjoyed the Hummel National Convention in Niagara Falls, N.Y. The 2010 NorthWest InterChapter Conference was held in the quaint Bavarian Village of Leavenworth, WA. August, 2011, the National Convention was held at Disney World, Florida.
We also support a variety of charitable organizations through various activities including collecting aluminum can pull-tabs for the Shrine Hospital, the making heart-shaped pillows for cardiac patients and the making of children's "comfort blankets" to be used by police and social services units. For this work our Chapter received the 2009 & 2010 Distinguished Performance Award and the Outstanding Service Award from the M.I. Hummel Club.
If this type of club is of interest to you and you would like to join our group, click on this link for a Membership Application.
---

Northwest Inter-Chapter Conference - "Oktoberfest" - October 6-7, 2006: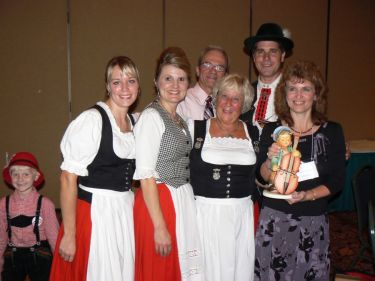 Our Local Chapter, along with five other Northwest Regional Chapters, held an Inter-Chapter Conference from October 6-7, 2006 at the Oakland Airport Hilton.The events began with the playing of "Berta Bingo" on Friday evening - including an ice cream dessert. Saturday had some wonderful guest speakers - Robert L. Miller, Brenda and Randy McKenrick, and Joan Ostroff, Ambassador for the M.I. Hummel Club presented some interesting topics. A "Swap and Sell" session was held on Saturday afternoon. Generous door prizes, including Hummel figurines, were given away to the attendees. The "Grand Door Prize" awarded at the Saturday evening banquet was Jumbo Sweet Music, Hum #186/III. The Saturday Banquet had an "Oktoberfest" theme, including German Dancers for entertainment. The picture to the right shows the grand prize winner, Ingrid Sheipline, with the German Dancers, "Almenrausch Schuhplattler", and George Gavrell, the chapter president.
---

St. Paul National Hummel Conference - September 6-9, 2007: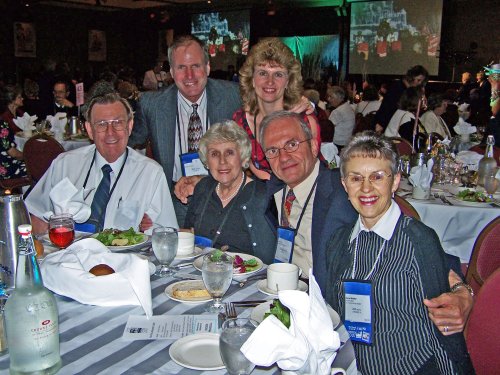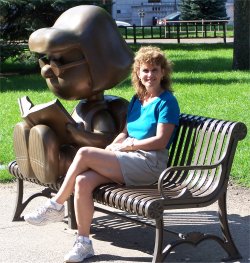 Six of our chapter members attended the Hummel National Convention held in St. Paul, Minnesota. We took a tour of the area and saw many historic and interesting things. St. Paul was the birthplace for Charles Schultz, the creator of Charlie Brown, so the city has many bronze "Peanuts" characters scattered throughout the streets and parks.

There was a fun charity drawing booth and we won lots of prizes. Also, there was a live charity auction and between the two events, $30,000 was raised for the St. Paul Children's Hospital. The seminars were outstanding with good topics very well presented.
---

Germany Trip & Hummel Factory Tour - October 15-25, 2007: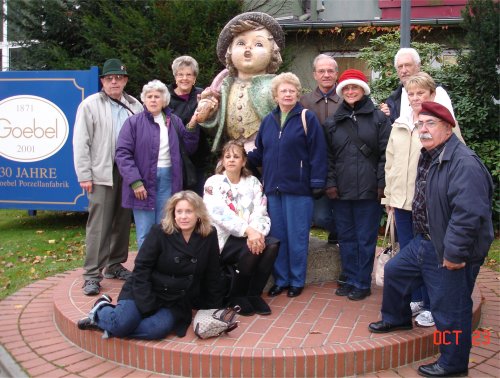 Thirteen members and guests of our chapter had a marvelous trip to Germany in October. Some of the places they visited were Munich, Nymphenburg Palace, Berta Hummel Museum, Hohenschwangau, Linderhoff Castle, Oberammergau, the Convent of Siessen at Bad Saulgau, Ulm, Marklin Museum at Geoppingen, Stieff Museum at Grengen/Brenz, Dinkelsbuehl, Rothenburg ob der Tauber, Coburg, the Goebel Factory in Roedenthal and Nuremburg. The highlight for everyone was seeing the production of Hummel figurines in the Hummel factory
---

NorthWest Inter-Chapter Conference, Portland, Oregon, September 19-20, 2008 :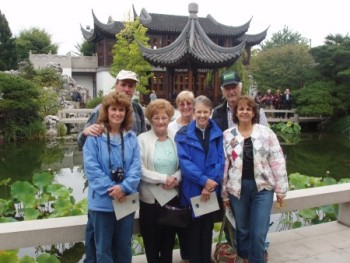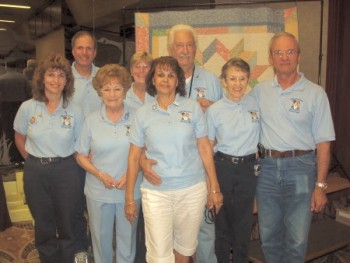 Nine members and guests of our chapter traveled north to Portland, Oregon to attend the NorthWest Inter-Chapter Conference. The conference was a huge success with all of the presenters doing an outstanding job, including the presentation by our president, George Gavrell. Two of our members won raffle prizes. Gerri Milligan won Doll Mother and Jill Shuey won Forever Yours. Following the conference, our group toured the Chinese Garden in downtown Portland and the world famous Portland Rose Gardens.
---

"Heart Pillows" - Charitable Project - May 2009: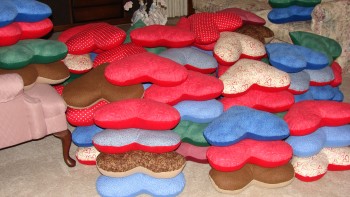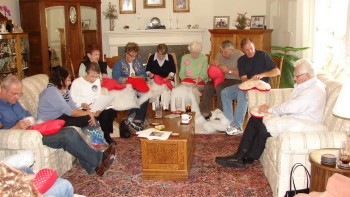 One of our Chapter's charitable projects for 2009 was the making of 80 heart shaped pillows for cardiac patients. The project was inspired by one of our members, Jim Milligan, who recently underwent heart surgery and received a similar pillow at the Sutter Memorial Hospital in Sacramento.
Cardiac surgery patients are given these pillows to support the patient's chest while coughing and deep breathing. They also serve to remind the patient and family that they had a cardiac procedure done and to take care of themselves each and every day.
The cardiac staff of Sutter Memorial Hospital were ecstatic with our gift. They never have enough pillows because the pillows are given to the patients to take home with them.
---

M.I. Hummel Club Convention - Niagara Falls, New York, September 10-13, 2009:
Some of our members attended the M.I. Hummel Club National Convention which was held in Niagara Falls, New York, September 10-13, 2009.
---
Our Chapter motif Figurine - Making New Friends - Hummel #1073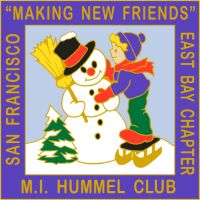 [If you would like to order one of these pins, click on the pin to
download an order form. The cost is $6.00/pin including shipping.]
---

Interesting Hummel Internet Links:
---
16 Jan 2017, 15:56:46