1805 Abraham Mumma Bible
[Bible pages copied from papers found in the Lancaster Mennonite Historical Society Mumma surname file]
This bible was owned by Abraham Mumma. It is printed in German and all entires were written in German. The bible included a loose sheet shown as page one below. Included with the bible pages was a transcription of the bible entries which are also listed. Corrections welcomed. The bible was printed in 1805, but given to, or bought by, Abraham Mumma in 1813 when he married Veronica Brandt.

Surnames:
---------
BRANDT
MUMMA


TRANSCRIPT BEGINS HERE____________________

[Page One -- Insert Sheet]



[Note: This page has not been translated as yet.]

[Page Two -- Title Page]



Bible, that is:
The Entire Divine
Holy Scripture
Old and New
Testaments
Reading
Philadelphia:
Gottlob Jungmann
1805

[Page Three -- Introduction]



This Bible
is the baptised words in the year our Lord, 1813,
and belongs to,
Abraham Mumma
in
Rapho Township - Lancaster County

[Page Four -- Marriages]



Abraham Mumma was married to Veronica Brandt on 16th March, year 1813

[Page Five -- Births]



Abraham Mumma was born 26th May in year 1787 between 4 and 5 o'clock in the P.M. in the sign of Libra (Waage?)
Veronica Mumma, his wife, whose maiden name was Brandt was born 28th February year 1790
Esther Mumma was born 28th September year 1785
Barbara Mumma was born 4th October in the year 1788
David Mumma was born in 19th February, year 1791
Joseph Mumma was born on 28th May year 1823 in the sign of ?
Catharina Mumma was born on 15th July in they year 1814 under the sign of Aquarius (Wassermann?)
Anna Mumma was born on 13 January in the year of 1816 under the sign of ?
Abraham Mumma was born 9th March in the year 1818 under the sign of ?
Fronica (Veronica) Mumma was born on 22nd April in the year 1821 under the sign of


[Page Five -- Births]



Maria Mumma was born on 18th February 1825

[Page Five -- Deaths]



Catharina Mumma, the mother of Abraham Mumma and his brothers and sisters was born in March, 1750, and died on 13th of May, year 1813, at the age of 63 years and some what over one month

-----------END TRANSCRIPT------------------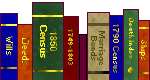 return to the Archives