1811 John Mumma Bible
[Bible currently in the possession of Jerry Flook]

This bible was owned by John Mumma (1787-1835). John was the eldest son of Jacob Mumma who migrated to Sharpsburg, Maryland in 1796. John had 13 children, six by his first wife, Elizabeth Susan "Mary" Shafer (1791-1820) and seven by his second wife, Mary Schnebley (1796-1862). From the writing in the bible suggests that John himself made the entries in the bible after the birth of his second child, Catharina Mumma in 1811.

Surnames:
---------
MUMMA
SHAFER
SCHNEBLEY


TRANSCRIPT BEGINS HERE____________________

[Page One -- Title Page]



The Holy Bible Containing the Old and New Testaments
Together with the Apocrypha.
Philadelphia:
Printed and published by Mathey Carey
1811

[Page Two -- Marriages]



I John Mumma was mariet to Elisabeth Shafer in the year of ouer Lord 1808 March 26th
I John Mumma was mariet to Mary Snhebly in the year of ourer lord 1821 Jun 14th

[Page Three -- Births]



I John Mumma was Borne tha 12 Day of December in tha year of our lord 1787
Elisabeth Mumma was Borne tha 19 Day of March in tha year of our lord 1791
Ourver son Elias Mlexan-dra Mumma Was Borne The 4th Day of Aprile in the year of our lord 1809
Ouver Daughter Catharina Mumma Was Borne the 31th Day of January in the year of our lord 1811
Our Daughter Rosanna Mumma Was Borne the 22 Day of March in the year of our lord 1813
Our son William H Mumma Was Borne the 18 Day of August in the year of our lord 1815
Our son Daniel Shafer Mumma Was Borne the 17 Day of June in the year of our lord 1818
Our son Jonathan Mumma Was Borne the 13th day of Aprel in the year of our lord 1820 and he lost his Mother tha first day of August 1820

[Page Four -- Births]



Ouer Daughter Elisabeth Mumma Was Borne the 20 Day of March in the year of our Lord 1822

Ouer son Samuel Mu-mma was Borne the 22 Day of July in the year of our Lord 1824
Our Daughter Ann Maria Muma Was Borne the 30 Day of May in the year of our Lord 1827
Ouer Son George Wash-ington Mumma was Borne 22 Day of Febua-ary in the year of our lord 1829
Ouer son John Thorn-ton Mumma Was Born tha 8 Day of April in the year of our lord 1831
Our Son Nathanael Mumma Was Borne the 2 Day of Jenuary in the year of our lord 1833
Ouer Daughter Marey E Mumma Was Born thay 22 Day of March in the year of our lord 1835
George Washington Mumma departed this Life February the 5 th 1842

[Page Five -- Deaths]



Mrs Mary Mumma consort of John Mumma died January 30 1862. Aged 65 years, 7 months and 8 days

-----------END TRANSCRIPT------------------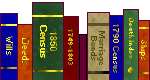 return to the Archives